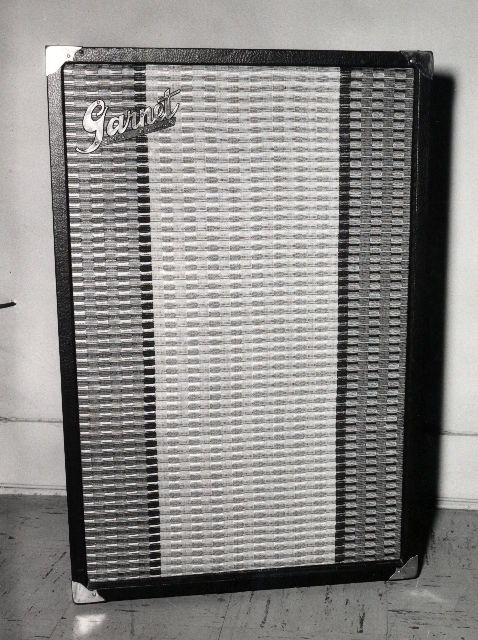 Photo above shows one of first combo amps produced by the fledgling
Garnet Amplifier Company.
A Brief History
of the
Garnet Amplifier Company
The following was written by Russell Gillies, son of Thomas Garnet Gillies, or "Gar" Gillies, as he was better known, who was the founder of the Garnet Amplifier Company.
"Gar" Gillies was in the music and electronic business his entire working life. In his early years he made his living at radio repairs, but even then, his heart was in the audio end of the radio business. Many of the local night clubs in which Gar played trombone, were equipped by him with their first P.A. systems (it was later figured out that he did this because he wanted to sing, and amplify his muted trombone). Some of the local jazz guitar players were also amplified for the first time. Years passed, and along came Rock & Roll. In the mid '60's, after working with and studying the needs of these new young artists, the Garnet Amplifier Company evolved out of the T.V. and radio repair business. The three partners were Gar himself, and his two sons, Russell and Garnet.
The first amplifiers and P.A. system that the company built were for a popular Winnipeg group then called "Chad Allen & the Expressions" (soon to change their name to "The Guess Who?"). At that time, Russell was the manager and "roadie" of this struggling group. Many of the other local and Western Canadian groups liked the new sounds and the power of the amps, and followed suit by ordering amplifiers and P.A. equipment.
By the early '70's, Garnet Amplifiers was firmly established in most Canadian markets and had made strong inroads into America. All of the Garnet tube amps were designed by Gar Sr. Some of the more popular models were the PRO, REBEL, and BTO (Big Time Operator) series. These three series all had two guitar heads and a suitably powered P.A. system. To follow the success of these lines, the popular PRO 200, PRO 400, and PRO 600 all tube heads were introduced followed by three DEPUTY models, produced as combo amps and heads. One piece combo amps would include the BANSHEE, GNOME, L'il ROCK, MACH 5, REVOLUTIONS I, II, and III, ENFORCER, and SESSIONMAN. The Herzog, H-zog, and two stand alone reverb units were all tube effects devices designed by Gar in the late '60's and early '70's.
In 1989, due to financial reasons caused largely by a too rapid expansion, the Garnet Amplifier Company Ltd., closed its doors. In the years that followed Gar did what he liked doing best, working one on one with musicians, repairing, upgrading and designing custom amps, and always working towards that special sound.
A Brief Biography
of the
Founder of the Garnet Amplifier Company
The following was written by Martin Patriquin for The Globe and Mail.
Thomas Garnet "Gar" Gillies
Musician, Sound Technician, Vacuum Tube Expert, Innovator
1921-2006
For years, rock musicians who sought that distinctive "Winnipeg Sound" beat a path to his door
Gar Gillies' indelible mark on Canadian rock 'n' roll kicks in after the first four bars of American Woman, by Winnipeg's The Guess Who. It is the sustained, distorted noise of Randy Bachman's guitar work snaking underneath the rhythm track that gives the song a menacing counterpoint to singer Burton Cummings' raspy wail. Gar and Randy shaped this sound and channelled it through Gar's own Garnet amplifiers, giving birth to what would become known as the "Winnipeg Sound" and securing the windswept Prairie city's place in Rock 'n' Roll history.
The son of Charlie Gillies, an engineer for CP Rail, and Elwyn Thomas, a homemaker, he learned how to play the piano at the age of 12, and though he had a singular disdain for the instrument, only one sound emanated from the piano after all, it allowed him to learn to read music. His older brother, Jim, stuck with the piano while Mr. Gillies quickly identified with the trombone, whose sound one could transform with the business end of a toilet plunger. (He also knew the trombone would annoy his mother no end.) He attended Daniel McIntyre High School and started the "Gar Gillies Jump Band" with his brother. It was the 1930's, and Gar fell in love with the likes of Cab Calloway, Nat King Cole, Tommy Dorsey and other big bands, and the Gar Gillies Jump Band toured Manitoba, Saskatchewan and northern Ontario, playing their standards. During the summer of 1939, he took the Moonlight Special, a weekly train from the city to Winnipeg Beach, to attend a dance. He met Margaret Moorecroft, and was instantly charmed by her shock of red hair and quick wit. The pair married two years later. In 1939, the Second World War erupted and Gar reported nervously for military duty. As it turned out, he was declared unfit for duty because of a heart murmur, though Gar said it was fear, not a medical condition, which caused his heart to skip. The doctors told him to quit drinking, smoking and playing trombone. He continued all three in earnest, often to great excess. In between stints on the road with his band, Gar worked in the radio repair department at Eaton's. There, he caught the attention of Leon Cam, a Winnipeg businessman who owned a chain of electronic and furniture stores. He began an apprenticeship with him at his flagship store on Sargent Street.
Later, Gar bought the business and for a time he lived a Faustian existence. In the front of the store, in a necessary but infinitely distasteful task, he sold radios, stoves and furniture; out back, he repaired and sold amplifiers, which was much more to his liking. Meanwhile, his band was fast becoming a victim of its own success. Although they played larger venues, the band struggled to make itself heard over the audience. In response, Gar designed and built his own PA system, effectively an amplifier with microphone inputs and speakers.
In 1963, a tall, skinny fellow named Neil Young wandered into the store with Kenny Koblun, the bass player in The Squires, Neil's band. Kenny needed a new bass, and knew exactly where to go for it (Neil couldn't for the life of him figure out why they were going to a furniture and television store). As it turned out, Neil and his band played their first show at the Riverview Community Club in South Winnipeg, and The Squires became part of a burgeoning local rock scene. "In the mid-Sixties in Winnipeg, on a Friday or a Saturday night, the place to be was your community club," says Winnipeg rock historian John Einarson, who grew up in the midst of it all. "There was this huge teenage population and the enterprising among them, along with their parents, helped organize dances."
These dances required music, and the musicians needed a place to buy and repair their gear. Among them was a stringy-looking kid with a suede jacket and a Beatles haircut and named Randy Bachman, who had a habit of blowing up his amplifiers every time he played a show. Randy, then playing for a band called "Chad Allen and the Expressions", had found that by plugging a smaller amp into a bigger one and then cranking up the volume he could create a continuous sound he likened to the violin. The noise was as short-lived as it was heavenly, however, causing one or both amps to melt.
"I'd take it into an electronics shop and they'd say we can't fix this, and what you are doing is stupid, blah, blah, blah," Randy recalled. "So I heard about this guy who was a musician who had a fridge-and-stove stores. I found out he was sympathetic to musicians. So I brought it in and he fixed it." Gar invited Randy to his warehouse on Winnipeg's fringes, where noise was never an issue, to experiment with various amplifiers. After the umpteenth blown unit, Gar built a pre-amp that replicated Randy's tone without melting any speakers. " I was reading a book by Werner Herzog, so we called the thing a Herzog," Randy said. "It became Randy Bachman's Herzog, and it was the sound of American Woman. You can't get that sound from anything else to this day."
The years between Chad Allan and The Guess Who are a blur, a time when everything in Winnipeg seemed to be stuck on fast forward. "It was the most exciting place in the world to be a teenager," Einarson recalls, and the guitar tone created by Randy and Gar became the blueprint of what became known as the "Winnipeg Sound". Influenced by the likes of The Beatles, The Yardbirds and Eric Clapton's Cream, the music flowing out of the city would come to define and enshrine the city as a place where rock music was played loud and fierce.
Gar began to build amplifiers, each emblazoned with the slick "Garnet" logo, for The Guess Who and just about every band that asked. "The great thing about Gar was that, being a musician, any band that went into Winnipeg, you gave him 20 bucks and he gave you an amp," Randy said. "If you gave him five bucks a week or five bucks a month he was happy. He gave every musician credit, something no one else gave us, and every band in Winnipeg is indebted to him for that attitude."
In 1966, Gar sold Cam's furniture store and began building and selling Garnet Amplifiers out of a shop on Ferry Street. It was big a risk. While everyone needed furniture and television sets, that was not the case with guitar amplifiers. Nevertheless, he recruited his sons Garnet and Russell. Garnet built the amplifier cabinets, and Russell was the salesman.
"Garnet amps were about power and durability," Einarson says. "A Fender may give you a wider range of tone, higher highs and lower lows, but Garnets were built for the road. They were extremely durable, had that oomph when you were playing high school gymnasiums and concert halls."
The Guess Who soared to fame using Garnet amps and PA systems exclusively. In 1967, the band recorded "Pretty Blues Eyes" in the Ferry Road shop, with Gar playing trombone on the track, as well as on "His Girl". Randy Bachman left the band in 1970, shortly after the release of American Woman, to form Brave Belt. After Randy spotted Garnet's BTO (for Big Time Operator) amplifier, he asked if he could use the name and logo. Gar agreed, and Bachman Turner Overdrive was born.
In 1971, Gar Gillies went down in the annals of soundman heroism when he saved a Winnipeg concert headlined by Led Zeppelin. In late August of that year, the city hosted the Man Pop Festival, starring the British super group. The event was to take place outside but a sudden downpour shorted out several key pieces of equipment. At about 3:30 in the afternoon, someone called Gar to ask if he could pull together a PA system in a hurry. By midnight, he had cobbled together sufficient wattage to host Led Zeppelin.
"They didn't have enough extension cords, so Gar sat about 30 feet in front of the stage all night and worked the knobs for Led Zeppelin," remembers Larry Laker, a guitar technician who worked with Gar at his shop. "I saw Zeppelin play afterwards and they never sounded as good as they did in Winnipeg." As it turned out, the concert may have been Gar Gillies's greatest moment. Soon after that, the solid-state transistor appeared and it spelled the beginning of the end for Garnet Amplifiers. Gar was what his son Garnet calls "a tube man" who preferred to work with the powered glass cylinders that drove electronic components. Although transistors were cheaper to manufacture and maintain, "you couldn't get that warm sound," said Garnet Gillies. "We probably didn't switch to solid-state fast enough, because Dad hated them."
By the time Gar made the transition, other cheaper competitors had the jump on the market. Despite a U.S. distribution deal and a contract to manufacture Gibson-brand merchandise in the early 1980's, Garnet Amplifiers never achieved the success that Randy Bachman and John Einarson believe the company deserved. In 1989, the company shut its doors for good, though Mr. Gillies continued to build custom amplifiers and accessories from his home, and in 2003 he opened a small shop on St. Matthews Street.
Today, Garnet Amplifiers and Herzog pre-amps are valued for their durability and unique sound, and occupy a prized place among the collections of the musicians like Lenny Kravitz, Neil Young, Randy Bachman, Burton Cummings, Gordie Johnson and über-producer Bob Rock.
Thomas Garnet "Gar" Gillies, was born on Feb. 28, 1921, in Winnipeg. He died of bone cancer on Dec. 23, 2006, in Winnipeg.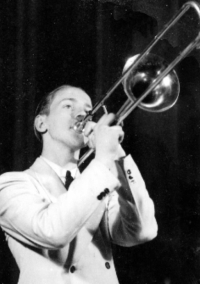 A Young "Gar" Gillies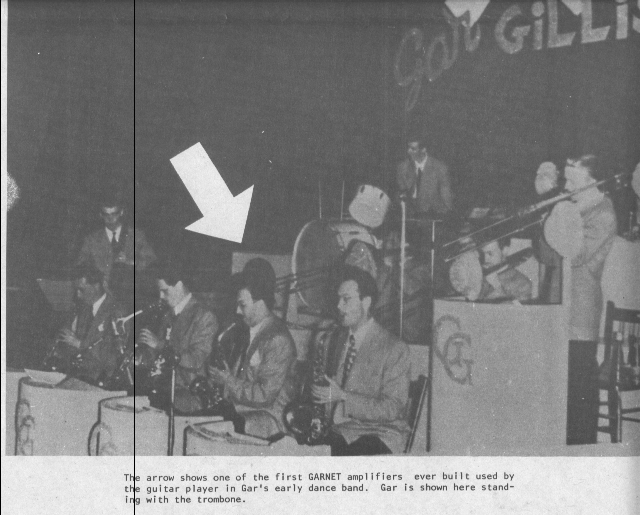 "Gar" Gillies' Jump Band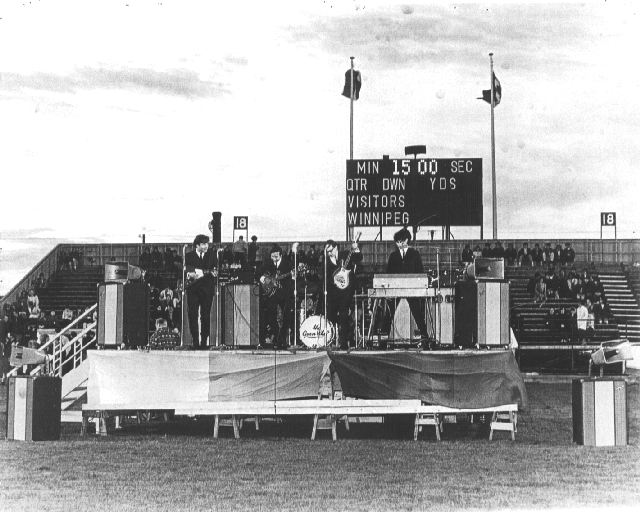 The Guess Who at Winnipeg Stadium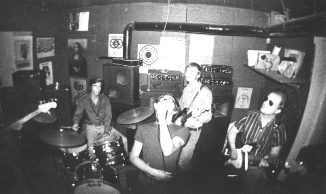 A Typical Winnipeg Basement Band
Youth Beat Magazine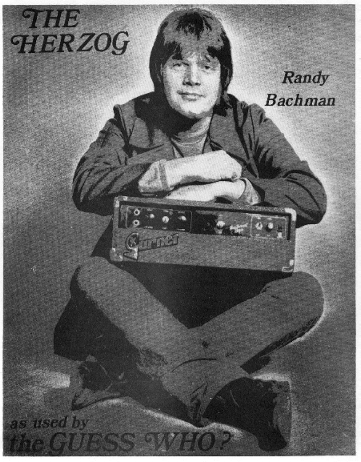 Randy Bachman with Herzog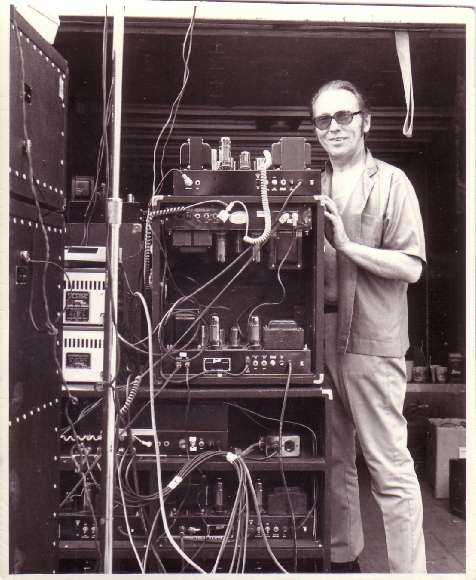 "Gar" at an Outdoor Music Festival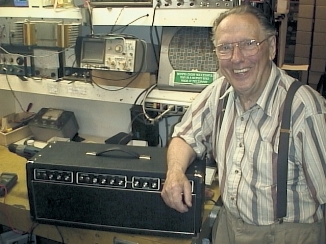 "Gar" in his Later Years